Floating Opera started in the early 1990s as a recording project with the participation of many of the best musicians in Lincoln, Nebraska, including many who have recorded for major labels. We released a self-titled cassette in 1993, which had limited distribution, but received strong reviews. That was followed by the CD Everybody's Somebody's Monster (1996), the EP It's Not Easy Listening Anymore (1999), and the full-length albums Burning Lighthouse (2003), Pony Up A Go-Go (2009), and Pop Song on the Elevator Down (2017).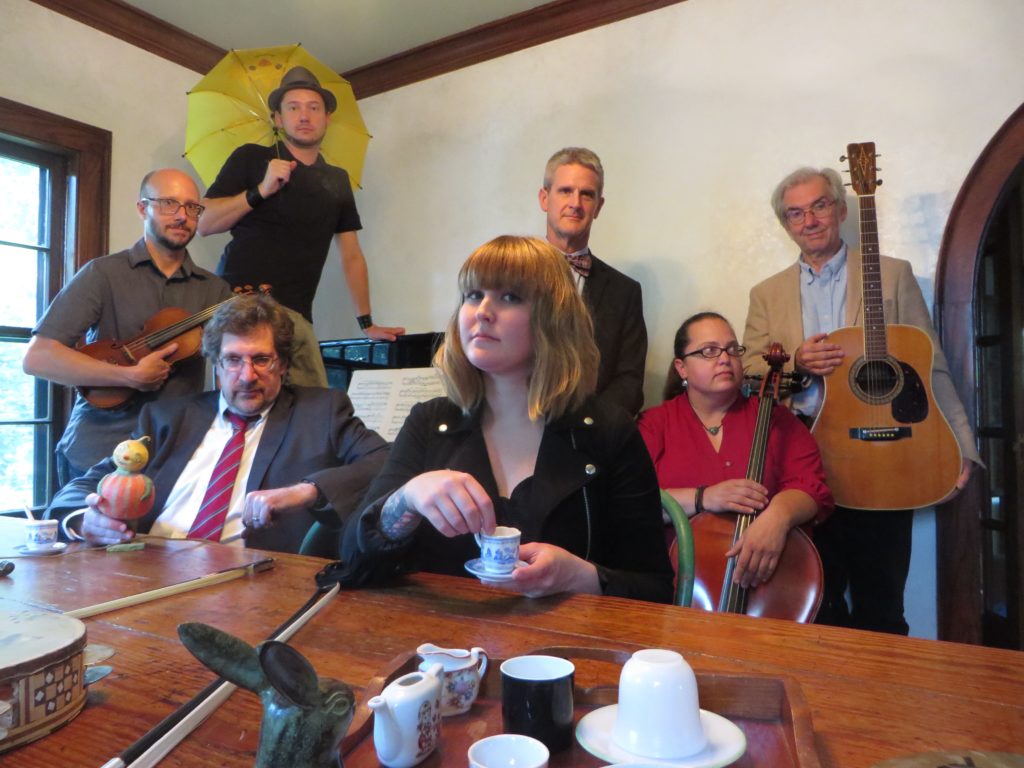 The band's current (and longest-running) lineup consists of:

Richard Rebarber (Keyboards & Songwriting)
Genevieve Bachinski (Lead Vocals)
Scott Stanfield (Acoustic Guitar & Vocals)
Alyssa Storey (Cello)
Tery Daly (Bass & Vocals)
Jon Korf (Electric Guitar)
Thad Miller (Violin)
Leilani Pai (Trumpet)
John Gessert (Drums)
Our History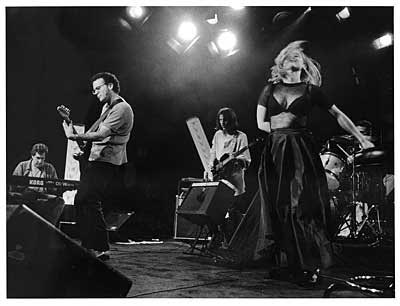 There have been over 50 musicians who have recorded and played in Floating Opera. The list of these musicians reads like a "who's who" of the top tier of Lincoln's music scene (and beyond) for the past two decades, including members of:
Mercy Rule, The Millions, The Heat Machine, The Liars, For Against, The Black Dahlias, The Boys, The Honey Hush, Prairie Psycho, The Static Octopus, Loup River Band & Street Choir, Witch's Hat, and Tangelo.
Most of the Floating Opera songs are written by Charles Lieurance and Richard Rebarber. Charles is a writer and poet, was the lead singer for the bands The Black Dahlias, and The Honey Hush. Richard writes the music for Charles Lieurance's lyrics, and produces, engineers, and plays keyboards on the recordings. Richard has also arranged for other musicians, including two songs on Mercy Rule's album Providence (Relativity Records). Richard studied composition, music theory, and electronic music technology at Oberlin College, and pays the bills with his job as Professor of Mathematics at the University of Nebraska.
All musicians who have worked in Floating Opera, in alphabetical order (apologies if we missed anybody):

Angela Adams (oboe)
Ron Albertson (drums)
Chris Allbright (electric guitar)
Lori Allison (vocals)
Douglas Allyn (drums)
Marty Amsler (bass)
Eric Aspegren (bass)
Genevieve Bachinski (vocals)
Kristen Baily (vocals)
Morgan Beach (vocals)
Xak Black (trumpet)
David Boye (acoustic/electric bass)
Christine Brown (violin, vocals)
Melissa Carper (acoustic bass)
Dorea Claasen (trumpet)
Dan Clark (drums)
Gregg Cosgrove (vocals)
Tery Daly (bass, electric guitar)
Harry Dingman (electric guitar, artwork, art layout)
Steve Doyle (acoustic bass)
Leanne Dynneson (violin)
Dave Farrens (bass)
Beth Fry (trumpet)
John Gessert (drums)
Rob Hawkins (background vocals)
Greg Hill (drums)
Matt Holland (trombone)
N.L. Junebug Klosterboer (saxophones)
Justin Kohmetscher (trumpet)
Jon Korf (electric guitar)
Mistyn Kozisek (violin)
Benjamin Kushner (acoustic/electric guitar)
Gene Lessman (drums)
Charles Lieurance (lyrics)
Meg Mahannah (vocals)
Thad Miller (violin)
Pat Noecker (bass)
Heidi Ore (vocals)
Kristin Pfabe (violin)
Terry Pieper (bass)
Richard Rebarber (keyboards, production, arranging, background vocals)
Sonja Rebarber (vocals)
Franklin Riggs trumpet
Sarah Rosenau (keyboards, background vocals, trumpet)
Mimi Schneider (vocals)
Chris Sorensen (baritone horn)
Scott Stanfield (acoustic/electric guitar, bass)
Wes Stebbins (guitar)
Alyssa Storey (cello)
Jon Taylor (acoustic/electric guitar)
Paul Tisdale (drums)
Tammy VanDeBogart (vocals, harmonica, pennywhistle, flute, concertina)